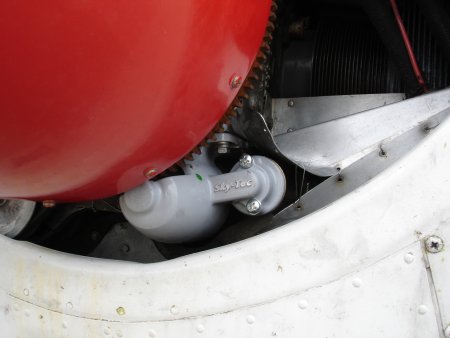 Permanent magnet type starter is now installed. It's much smaller than the original and its weight is cut by half. A bit of $$$$$$$$$.
Its great feature is it has a solenoid, which holds power till the pinion gear gets fully engaged into the ring gear. It's so common among automobiles, but not airplanes!!!!
Because of the solenoid, the front buffle plate had to be modified. I temporalily lockwired them, and flew to Crosland Aviation at Langley Airport.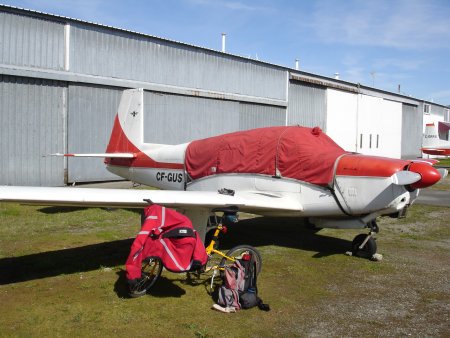 So, this time again; I took Bike Friday foldable bike in the airplane, planning to ride home from Langley. I'm proud of this kind of self sufficient transportation.
BTW, this is the first photo of GUS at Pitt Meadows (Aero Club).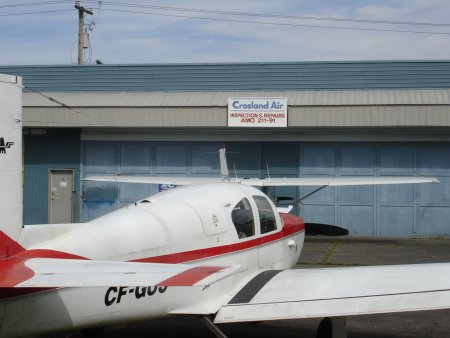 Back to Crosland Aviation of Langley.
So, the engine cannot be started, unless handpropping.
I've handpropped upto 160 HP engine of C-172.
This Mooney is 180 HP, and my arm muscles are not made for that kind of task. I'll wait till a new improved parts arrive by Greyhound bus.
Hopefully in a few days.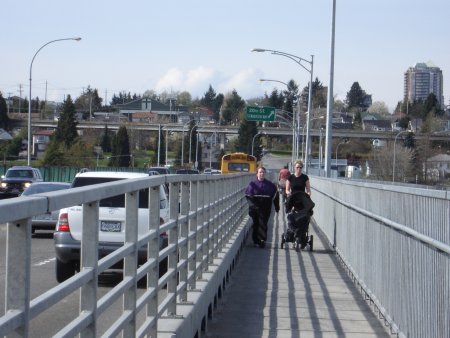 I heard the east sidewalk of the Queensboro Bridge was open sometime ago. Yet, I didn't visit in person.
Past Tuesday I was in the neighborhood, so I rode Vision recumbent across.
The historical background of this sidewalk makes me mad. So, I dare not write about it. This world is for automobiles, and it's doomed to destroy itself.
Let it be.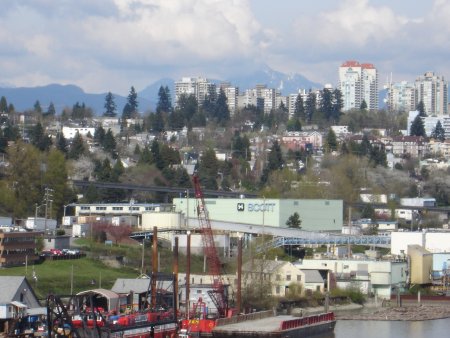 Scott Paper Co.; highrises towering over it.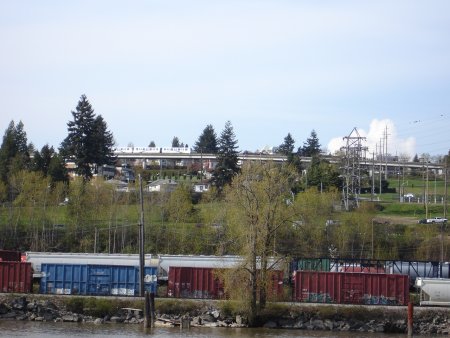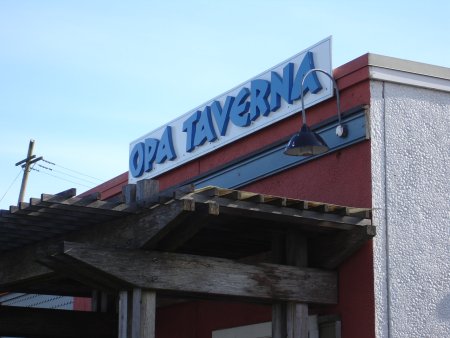 New restaurant in Queensboro; a real surprise to find a restaurant in the area.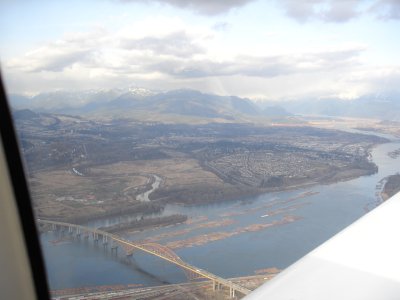 Port Mann Bridge spanning over the Fraser river.
Behind the bridge, Tree Island is visible almost in full. The Coquitlam river joins there. On the right of the frame a tip of Douglas Island is in view. The main flow of the Fraser comes south of Douglas Is., so not visible here and the water from North East is the Pitt river, rare tidal one; 5 hours delayed from Point Atkinson at the entrance of English Bay.
Two years ago, I paddled from the south end of Pitt Lake, down along Pitt River to Port Mann Bridge. The trip was quite unique in the sense that it was done totally human powered from my door and back to door, utilizing fordable bike, trailer and foldable kayak. On the river, bike and trailer got onboard kayak. So, the whole trip was done on one stretch, not going back to retrieve other transportation like commonly done. The time it took was 8 hours, a real expedition, not far from home.