I thought it was generator, so did L.
The shop revealed the truth by bench test that the generator was okay. The brushes had plenty left.
One less problem, making two less: Voltage regulator and generator.
What was left? Not much; only master switch, wires and radio noise suppressors.
I was excited the real truth would reveal today.
Yet today dawned with heavy rain. I could brave the element by Ninja to get there, but I have no intention of working outside in this rain. Period.
K-san told me I should keep flying everyday so that no problem popped out.
Yeah, Right!
Last time the starter conked out, when I was ready for Nukasp trip. It took a month to materialize that trip.
This time I was just about to leave for Edmonton via Revelstoke. Revelstoke was a 45 minute stopover on my flight plan, and I had a secret plan----If I had enough fuel left over Revelstoke, I would go non-stop. I even had a pee bottle on board, in case.
On runup, the ammeter showed no charge. This happened before. So, taxied back and checked the regulator. The contacts were worn.
The next day, I found at Lordco Chevy regulator was identical. Lucky me, so I thought. A few hours later, I realized my luck was false. The needle of ammeter still didn't move to positive.
Now, what. This time I had my trusty Fluke. Field terminal had no power!
?????? Once home, searched DC generator info on Internet, and found out the external excitation is not necessary on DC generator!!!
Then what is my problem?
Generator itself? Only possible item is worn brushes......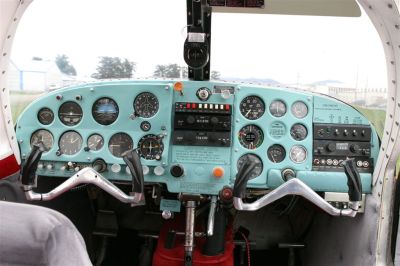 ----
To be honest, I'm a bit tired of too many mishaps on the airplane.
I'll switched to hiking for a while.