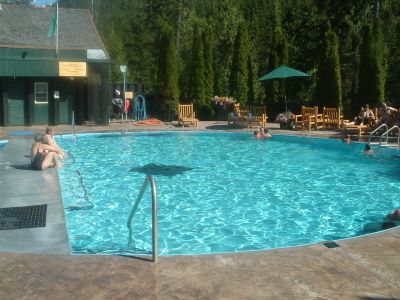 I became a little panicky. Local resident from Hungary, Richard gave me a ride from the airport to the hotsprings resort, and then I realized I hadn't closed my flight plan yet. There was no telephone booth at the airport, my cel phone didn't work either.
Caretaker, Steve helped me using a satellite phone to finally call Nav Canada at Kamloops.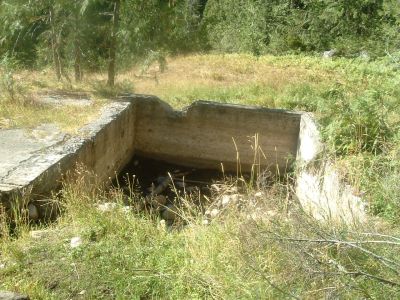 Original bathtub?
20 minute hike on a trail brings you to this site.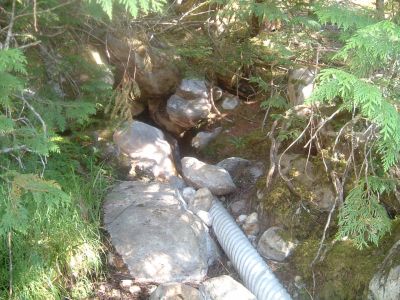 Unpretentious source of Nakusp Hotsprings.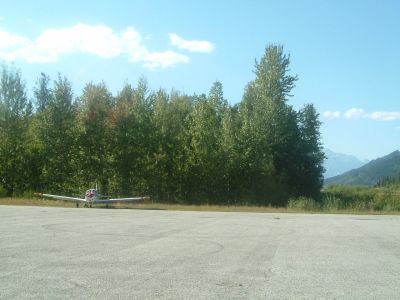 Forlorn GUS, waiting for the master to come and fly back home.
A removal of the attitude indicator was rather easy.
Luckily, Jack had a serviceable spare instrument, which we quickly installed.
After the cowl panel was replaced, the test showed the horizon spinning madly. One of the hoses was missed!
Once the last repair was complete, I wanted to fly to Chilliwack for the heck of it!
At the button of Rwy. 25, the left mag was partially missing. One after another problem. As standard procedure, I aggressively leaned mixture to clear that spark plug without success. Taxied back to Crosland Air. Shut down the engine, and then found Jack. He was walking back to the shop; I was lucky. His magic touch cleared the stubborn carbon deposit on the plug!!
Now, normal flight visit to Airport Cafe at CYCW.
Looking over the south side of the valley while sipping tea there, my curiosity was arose. How is the Chilliwack River valley these days? There one of my first climbs in Canada was done at Mt. Foley. Many years later, Mt. Welsh which was supposed to be the original destination. That's spring of 1972. Consulting a chart revealed a pass from the end of Chilliwack Lake to Nooksack Valley, then to Town of Glacier. Decided on the route.
Altitude around 6,000', the impressive vista appeared; the Picket Range, and my mountain of Shuksan from behind.
Then descending back to the Fraser Valley, and to the Abbotsford Control zone. Home port of Langley was minutes away.
I kept working all day, even skipping lunch.
Towards evening the engine cowl was placed.
Brave soul took off, and quickly found out the attitude indicator was not working; lucky me! It's not IFR obviously.
Yet, proceeded to Glen Valley practice area. I did some slow maneuvering and stalls.
Came back to Langley and the airplane is back into the shop for instrument work.
I hope the vacuum source is Okay, the gause indicated at the bottom of the green. Well, hope for good!
I've started replacing some of inspection panels after Jack checked the innards; this indicates the work has passed the half way point. I really hope so. I have plenty of time, but my concern on the budget is accelerating.
As GUS in shop, there is not much of flying these days.
After shop work yesterday, I went to DAP (Delta Air Park) and took Turbi up.
I almost gave up, as the gas stand didn't work even after VISA was accepted and the pump motor started running.
#2 Pump out of order sign was misleading. Finally I tried #1, and worked.
Turbi's tank was almost empty; I could not imagine any pilot would fly almost to the exhaustion. At least not me!
Checked out "Grey Cup 2005" signs in the corn field. It's NW of the Cloverdale Race Track, east side of the Serpentine river between #10 and 64th Ave.
It can be a sighseeing attraction.
While I was circling there, I overheard Boundary ATC was giving a traffic warning to a pilot, "Traffic north of Race Track, probably ultralight." I was temped to respond, "No! Not ultralight! It's homebuilt!" To them there may not be much difference.
Monday is here.
Another day in shop, working on GUS.
An annual inspection for GUS.
It's in Crosland Aviation.
We are still in the process of removing all those inspection panels.
Mooney speciality; hundreds of screws are holding them.
My newest tool; Princess Auto, $19.99 recharchable screw driver. Cheap it is; already the supplied Philips screw bit is broken!!! It's not Snap'on for sure!
I can get a replacement, but it'll break anytime!!! Such is the case!