Good Morning!
I thought I had a bright idea of uploading a movie of Leo flying.
Then the fact of Excite Blog revealed; only jpg images are allowed and the size limit of 500 k.
The movie file I wanted to upload was whopping 9 meg!
Well, too bad.
At least anyone who wants to see it, give me a shout. I may send it attached on a personal message. So, there is a way.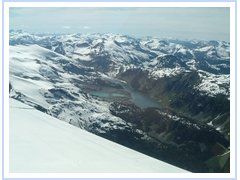 Last couple of flights over the same area, I couldn't find the Snowcap lakes. It was a surprise to my self in my sloppy navigation; most probable location was several km in radius!
Compare it with GPS accuracy now-a-days.
Finally this time (Jun. 20/05) with help from my trusty navigator copilot, we located them with Hour Glass Lake beside them.
This is a photo of proof.
I noticed one of the stays holding the engine cowl was loose. That was some time ago. I kept bugging J., aircraft mechanic, to fix it. He was busy all the time.
Finally time had come. Today I taxied GUS to his shop on the field (Langley Airport); it's convenient <-- one of the reasons I chose this airport for GUS's base.
I helped him taking the cowl off. Mooney is notorious for the number of screws to undo.
Then I crowled under the instrument panel, removed the side panel and inserted a new bolt. I was good at it, contrary to 2 metre physique of J.
J found out a loose mounting on the nose gear cover, and fixed it too.
Now I feel comfortaaaaaaaaaaable with GUS.
When I was going to taxied back, Don appeared. He wanted to deliver his ELT to the shop at Pitt Meadows Airport, and asked me for a ride. Sure, I said. It would be a test flight. He phoned and found out the shop was closing for the day. So, the test flight was postponed, till maybe tomorrow, as I didn't bring my cheque book, and have to pay J. soon.
ゴッホの跳ね橋(アルル)
You must be happy greatly, after you've succeeded in posting your photos in France.
I'm temporarily (?) staying at my son's place, taking care of his dog, Leo.
As I cannot write Japanese on the computer here, I'm using Knoppix-J on CD Linux version.
This OS is temporary.
ついに、 写真を取り込めましたね。
おめでとう!
ボクのほうは、息子のところで、仮住まいして犬の世話をしています。で、彼の コンピューターでは日本語を書けないので、
LinuxのCD版で書いています。これは、 コンピューターの仮住まいです。
Next on agenda is GmailFS on Mandrake 10.1 Linux.
It's not so simple as Windows version.