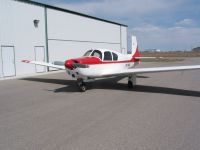 Things advanced rapidly, and now everyone went into vacation. Then obviously everything slowed down. It's a flow of life in general.
So, the finalization of aircraft purchase is set to January 14, 2005. I'll have money set aside by then. Brian, the current owner is now notified. I booked West Jet; this time from YVR, not from Abbotsford. It suited me very well. The price is cheaper than YXX departure; very strangely! And particularly attractive fact is its distance is easily rideable than YXX. I'm planning to take Bike Friday, foldable with Samsonite box for check in. This is the first time to really try this feature out.
At YYC, I'll have much more flexibility with NWT, if the weather is not so cold as today, -20 degrees C.
I'll see.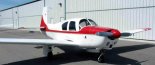 A lot of airplane related entries these days, and one more being added.
To check out Mooney M20B, I'm taking West Jet airline from Abbotsford bound for Calgary tomorrow, Wenesday.
I've hired an airplane mechanic (AME) from Langley, and he'll accompany me to investigate the state of the plane, technically.
If the result is favourable, I will go for it.
As the weather as it is (rain and the freezing level is low here), it must stay longer where it is.
The plane is in a heated hanger of Springbank Airport, Calgary satellite.
Fate shows it. That's the airport I was trained to be a pilot, early 70's; 30 years ago. At that time I was living in Calgary, ice box of Canada.
It must be cold now. -20 degrees C?
Well the weather there will grow hair on my chest for sure.