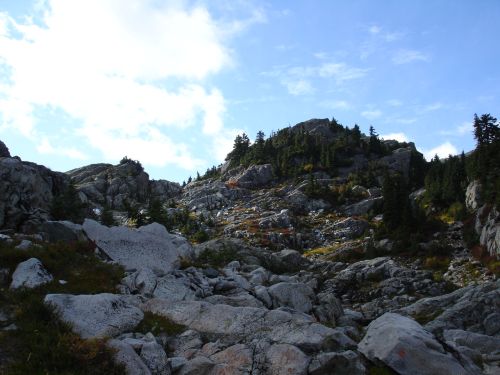 Seymour Ist Peak seen on the way.
Last winter in thick fog, I was disoriented. So, this time I pulled out a compass and diligently got a bearing. And then saved in my poor memory bank.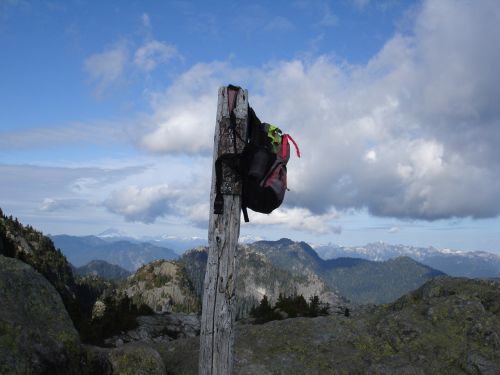 Seymour's first peak was an easy game after Mt. Frosty two weeks ago.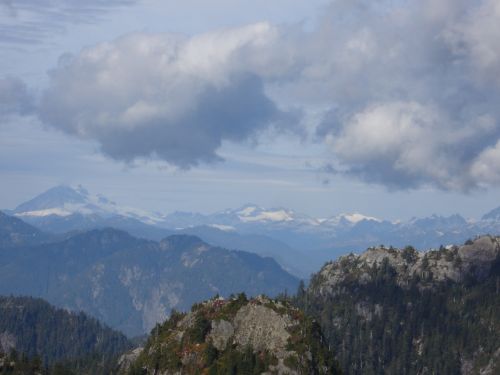 Mt. Garibaldi and Mamquam (?)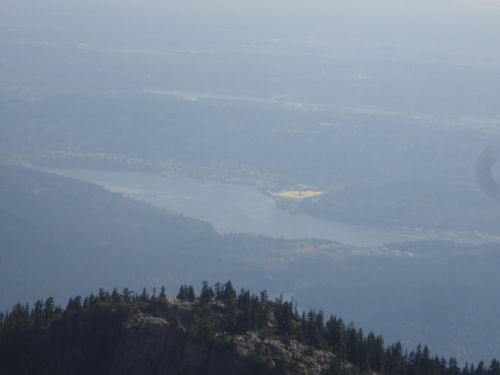 Burrard Inlet and Fraser River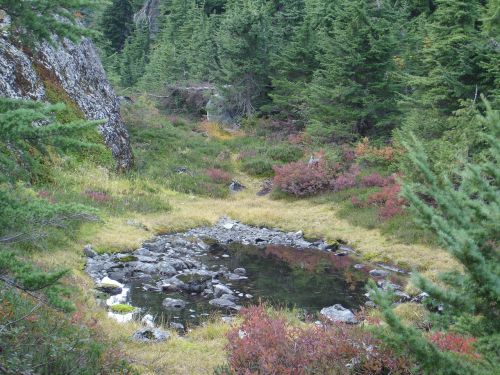 This will be my commando campsite in the future.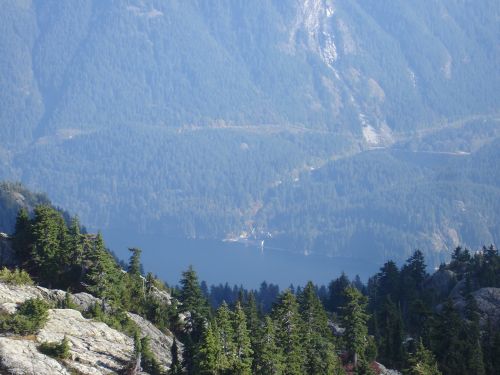 One of the oldest power house around Vancouver. The water cascades from Buntzen Lake which is fed by Coquitlam Lake through tunnel.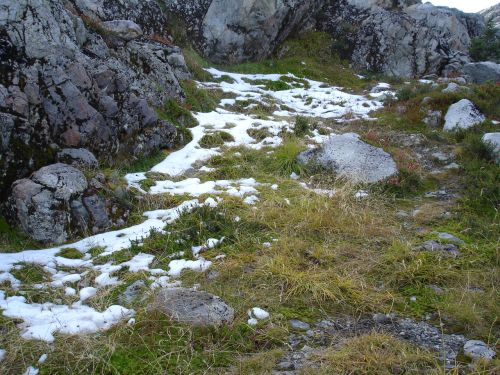 Season's first snow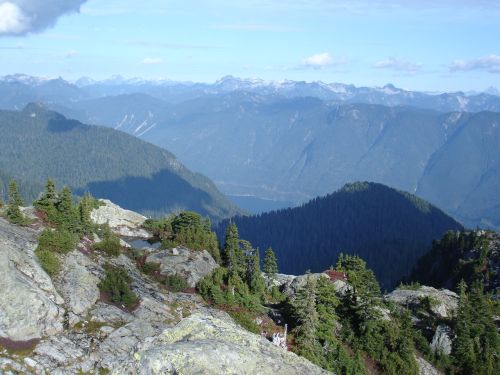 I'll visit this tarn someday.
Mt. Frosty, Manning Park; approx 200 km east of Vancouver, BC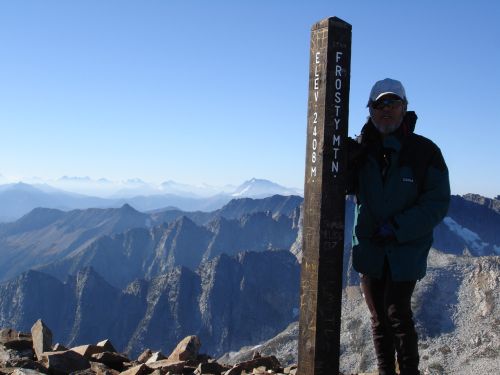 Photo: P. Durnford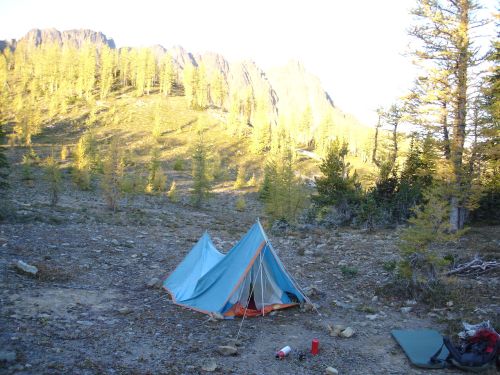 40 years old tent: Not only the owner, but his equipment is getting old. The temperature dropped below the freezing level. A few people were saying their water bottle had frozen solid. Mine? No! I kept it inside and remained liquid form.
The last chance of larch in best colour. A few days later, the first snow in the season hit the area.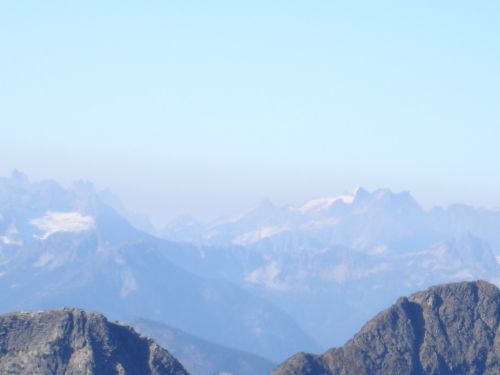 Have I climbed these yet? Somewhere there, Mt. Outram and Hozameen which I had reached to the top, may BE.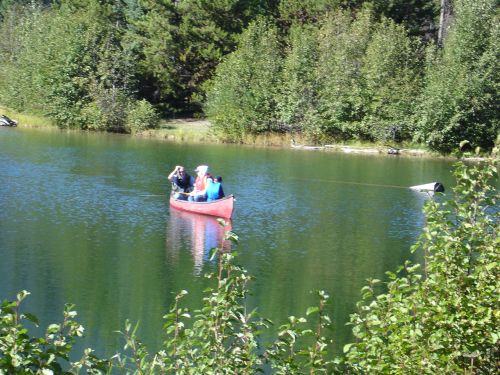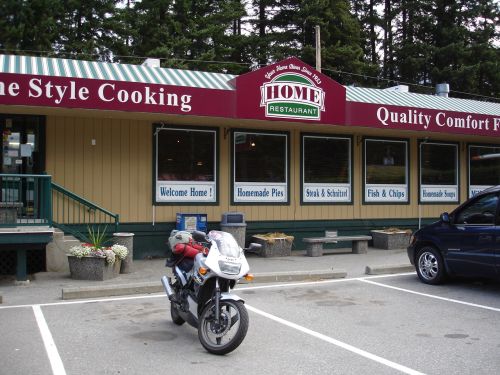 I rode Ninja for this trip. The overnight pack occupied the passenger seat.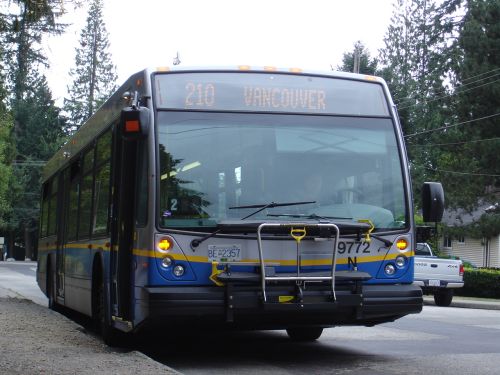 One and half hours later from home, yet still not at the trail head yet. Lynn's trail'd start in another 20 minute walk. On the way I saw Cathy of Alpine Club. She was unloading several MTB's, not just two. I hesitated to name her, but her memory was superb and called me by full name, "first" and "last". Her family was in MTB, and taking a lesson on the day. She asked me if I was doing mountaineering as before. I told her I had slowed down (wondering I had ever been fast?). "Everyone is" was her response.
Upper Lynn Loop
I used to have some kind of fear in a forest. Not now. On the contrary, I'd rather feel mental relaxation there.
Another thing that has changed lately is I now like a solo outing. Many years ago in my old country, I regularly did solo, sometimes climbing by myself. I was keen on devising self belaying gadgets. In my adopted country, I was not comfortable being alone in mountains. Almost 40 years to adjust to a new place is a very lengthy process!
One more thing; I was my own enemy. I've started to come to terms with myself.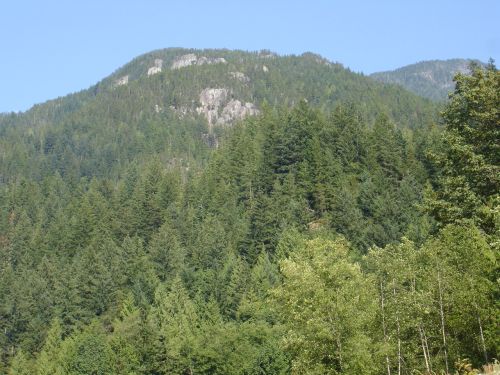 View from Porteau Road Parking; 2 km south of Porteau Cove. This used to be a gravel pit before Sea to Sky road expansion started, I guess.
I think Deeks peak is farther right in the photo. I preferred this to the one on the right.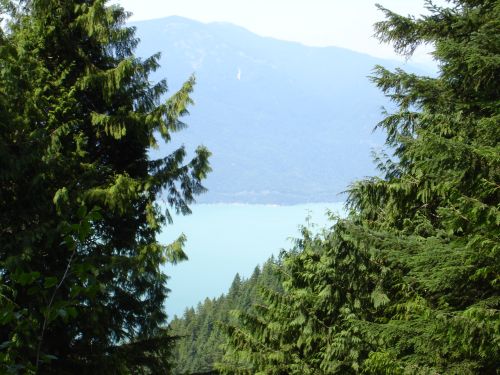 So far only view point.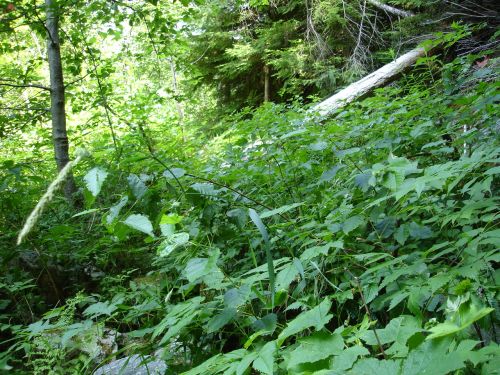 Where trail?!
Tremendous heat caused my shirts, including a note in the pocket soaked wet, as if I went through rain. Though the temperature in fact didn't bother me so much as devil's clubs which were scratching my bare arms and legs.
At around 800 meters, knowing one hundred more I'd cross Kallahne creek, I abandoned the bushy trail which didn't look like one at all.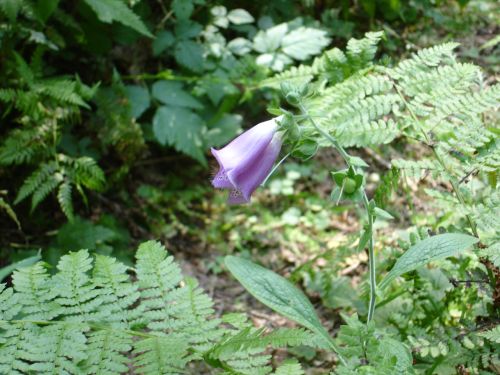 Usually mountains here are quiet, but not today. There were over 60 children from Peace Arch Elementary School, White Rock on excursion, plus 16 parents and some teachers. Wherever in the mountain I heard their chirping noise. It was different.
I'd been with them till the meadows before Elsay Lake turn-off, and then I heard nothing. How far did they go, I wondered. Didn't reach at least the first Peak?
Judge Howay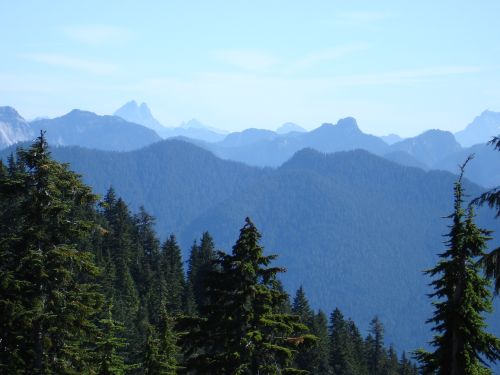 Baker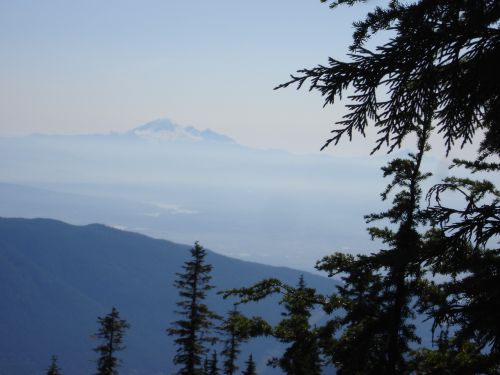 This rather easy trip hurt my ankle. A little pain when it's pressed. I have to take it easy for a while.
It started as the second attempt to get closer to Elsay Peak. The first one more than a week ago with Leo. There was a long interval since the last outing (Cypress skiing! Yes, very long time ago). My system was not used to. The objective was changed to III Peak of Seymour, instead of hiking down the steep west route north.
Sometime later I may try the third attempt.
On the II Peak, Sony Cyber Shot jammed. Obviously the first problem you'd thought of was low battery. Shouldn't be, as it was recharged quite recently. It was awkward to store with lens sticking out.
Later at home it turned out to be the battery problem. I used to say more than half of electrical problems was power source. It proved to be true again.